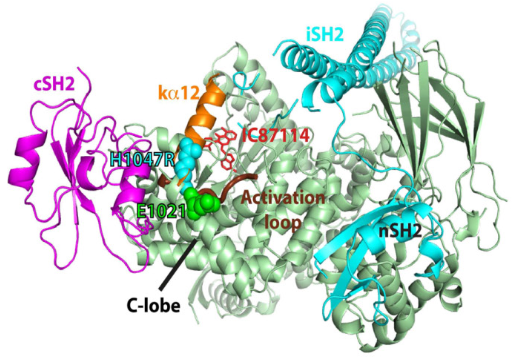 Scientists discover genetic disease which causes recurrent respiratory infections
Cambridge scientists have discovered a rare genetic disease which causes severe respiratory infections and lung damage. Because the scientists also identified how the genetic mutation affects the immune system, they are hopeful that new drugs that are currently undergoing clinical trials to treat leukaemia may also be effective in helping individuals with this debilitating disease.
For the study, led by the University of Cambridge in collaboration with the Babraham Institute and the MRC Laboratory for Molecular Biology, the researchers first examined genetic information from individuals who suffer from immunodeficiency and are predisposed to infections. From this group, the scientists identified a unique genetic mutation in 17 patients that suffer from severe respiratory infections and rapidly develop lung damage.
The researchers, who were primarily funded by the Wellcome Trust, MRC, BBSRC and the National Institute for Health Research (NIHR) Cambridge Biomedical Research Centre, found that the mutation increases activity of an enzyme called Phosphoinositide 3-Kinase δ (PI3Kδ), which is present in immune cells where it regulates function. However, constantly activated PI3Kδ impairs immune cell function, preventing them from responding efficiently to infection and providing long-lasting protection. Consequently, patients with this mutation have severe and recurrent infections.
"Patients with this mutation have a defect in the immune cells, so their protection from infections is weak and inefficient," said Sergey Nejentsev, Wellcome Trust Senior Research Fellow from the University of Cambridge who led the research. "We called this newly identified disease Activated PI3K- δ Syndrome (APDS) after the enzyme in the immune system that is affected by the genetic mutation."
Klaus Okkenhaug from the Babraham Institute said: "PI3K family enzymes have an important role in many cellular functions, and are already linked to disorders such as cancer and inflammation.  However, this is the first time a mutation that increases the activity of a kinase has been linked to immune deficiency. This discovery offers not only new possibilities for treatment using existing drugs, but also fundamental new insight into immunity and infection."
The researchers believe it may be possible to treat APDS in future. There are currently drugs in clinical trials for leukaemia that were designed specifically to reduce the activity of the PI3Kδ enzyme. The researchers have already shown that these drugs reduce activity of the mutant protein. Alison Condliffe, joint senior author on the paper from the University of Cambridge, said: "We are very excited by the prospect of using these drugs to help patients with APDS. We believe that they may be able to restore functions of immune cells, thereby reducing infections and preventing lung damage."
Professor Michael Wakelam, Director of the Babraham Institute, commented: "This study demonstrates the importance of collaboration between basic and clinical researchers in developing our understanding of the molecular basis underlying human disease." Although the prevalence of the disease is not yet known, the scientists believe that it is relatively frequent compared to other immunodeficiencies and may underpin a substantial fraction of patients with immunodeficiencies and chronic lung disorders. "It is very important that doctors consider a possibility of APDS in their patients," said Dr Nejentsev. "A simple genetic test can tell if the patient has the mutation or not. We believe that now many more APDS patients will be identified all over the world." 
Contact details:
The Knowledge Exchange Office
Email:  kec@babraham.ac.uk
Tel:       +44 (0)1223 496206
The Babraham Institute
Babraham Research Campus
Cambridge CB22 3AT
​United Kingdom
 
Notes to Editors:
 
About the Babraham Institute:
The Babraham Institute undertakes world-class life sciences research to generate new knowledge of biological mechanisms underpinning ageing, development and the maintenance of health. Our research focuses on cellular signalling, gene regulation and the impact of epigenetic regulation at different stages of life. By determining how the body reacts to dietary and environmental stimuli and manages microbial and viral interactions, we aim to improve wellbeing and support healthier ageing. The Institute is strategically funded by the Biotechnology and Biological Sciences Research Council (BBSRC), part of UK Research and Innovation, through an Institute Core Capability Grant and also receives funding from other UK research councils, charitable foundations, the EU and medical charities.
 
Website: www.babraham.ac.uk
 
The Biotechnology and Biological Sciences Research Council (BBSRC) is the UK funding agency for research in the life sciences. Sponsored by Government, BBSRC annually invests around £450 million in a wide range of research that makes a significant contribution to the quality of life for UK citizens and supports a number of important industrial stakeholders including the agriculture, food, chemical, health and well-being and pharmaceutical sectors. BBSRC carries out its mission by funding internationally competitive research, providing training in the biosciences, fostering opportunities for knowledge transfer and innovation and promoting interaction with the public and other stakeholders on issues of scientific interest in universities, centres and institutes.
 
Website: bbsrc.ukri.org/