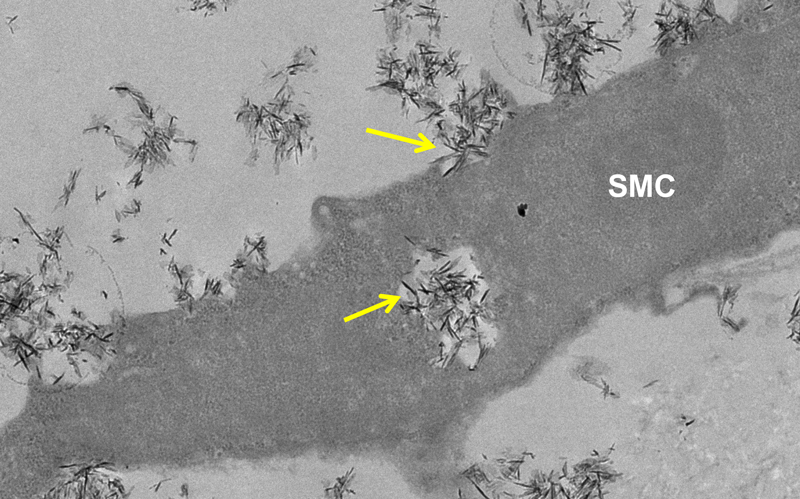 Protective proteins reduce damage to blood vessels
Researchers have uncovered how proteins found in our blood can reduce damage caused to blood vessels as we age, and in conditions such as atherosclerosis and arthritis.
Calcification is a major risk factor for heart attack and stroke. Blood vessels can harden as calcium phosphate (CaP) crystals, normally found in bones and teeth, build up in soft tissue as we age or as a result of illness. This can lead to complications in patients with atherosclerosis, a major cause of death in the UK whereby arteries thicken and are at risk of becoming blocked.
However a team of scientists at the BBSRC-funded Babraham Institute has discovered how CaP damages vessels, and how proteins normally found in our circulation can help prevent this process.
In the study funded by the British Heart Foundation, researchers found that small CaP crystals were being consumed by blood vessel cells, resulting in abnormally high levels of calcium ions, which can prove toxic.
They discovered that two proteins in the blood, fetuin-A and albumin, can slow down the uptake of CaP crystals by blood vessel cells, reducing the release of calcium ions and protecting against damage.
Dr Diane Proudfoot, who led the study, explained: "Small changes in calcium levels within a cell controls many aspects of normal cell function. However, when calcium levels become excessive, the cell can die. By delaying the uptake of these crystals and reducing the release of calcium ions, proteins fetuin-A and albumin can help to keep calcium ions at a safe level". The research, published today in the journal PLOS ONE, offers potential to develop treatments to prevent and reduce the damaging effects of CaP crystals.
Dr Proudfoot added : "Interestingly, lower levels of these proteins have been observed in patients with chronic kidney disease who can suffer a higher level of mortality due to cardiovascular disease. In the future, there is potential to use fetuin-A that has been artificially created or extracted from blood as a treatment for patients with low levels of this protein." Professor Melanie Welham, BBSRC Executive Director for Science, said: "BBSRC-funded science helps us to explore the biological processes that underpin our health.
This research provides important insights into healthy ageing and may lead to therapeutic strategies to prevent the problems associated with calcification in ageing and several diseases." The Babraham Institute receives strategic funding from BBSRC.
This study was funded by the British Heart Foundation with support from BBSRC.  
Publication: Dautova Y, Kozlova D, Skepper JN, Epple M, Bootman MD, Proudfoot D (2014) Fetuin-A and albumin alter cytotoxic effects of calcium phosphate nanoparticles on human vascular smooth muscle cells. PLOS ONE.
Contact details:
The Knowledge Exchange Office
Email:  kec@babraham.ac.uk
Tel:       +44 (0)1223 496206
The Babraham Institute
Babraham Research Campus
Cambridge CB22 3AT
​United Kingdom
 
Notes to Editors:
 
About the Babraham Institute:
The Babraham Institute undertakes world-class life sciences research to generate new knowledge of biological mechanisms underpinning ageing, development and the maintenance of health. Our research focuses on cellular signalling, gene regulation and the impact of epigenetic regulation at different stages of life. By determining how the body reacts to dietary and environmental stimuli and manages microbial and viral interactions, we aim to improve wellbeing and support healthier ageing. The Institute is strategically funded by the Biotechnology and Biological Sciences Research Council (BBSRC), part of UK Research and Innovation, through an Institute Core Capability Grant and also receives funding from other UK research councils, charitable foundations, the EU and medical charities.
 
Website: www.babraham.ac.uk
 
The Biotechnology and Biological Sciences Research Council (BBSRC) is the UK funding agency for research in the life sciences. Sponsored by Government, BBSRC annually invests around £450 million in a wide range of research that makes a significant contribution to the quality of life for UK citizens and supports a number of important industrial stakeholders including the agriculture, food, chemical, health and well-being and pharmaceutical sectors. BBSRC carries out its mission by funding internationally competitive research, providing training in the biosciences, fostering opportunities for knowledge transfer and innovation and promoting interaction with the public and other stakeholders on issues of scientific interest in universities, centres and institutes.
 
Website: bbsrc.ukri.org/
About British Heart Foundation Coronary heart disease is the UK's single biggest killer. For over 50 years we've pioneered research that's transformed the lives of people living with heart and circulatory conditions. Our work has been central to the discoveries of vital treatments that are changing the fight against heart disease. But so many people still need our help. From babies born with life-threatening heart problems to the many Mums, Dads and Grandparents who survive a heart attack and endure the daily battles of heart failure. Join our fight for every heartbeat in the UK. Every pound raised, minute of your time and donation to our shops will help make a difference to people's lives.