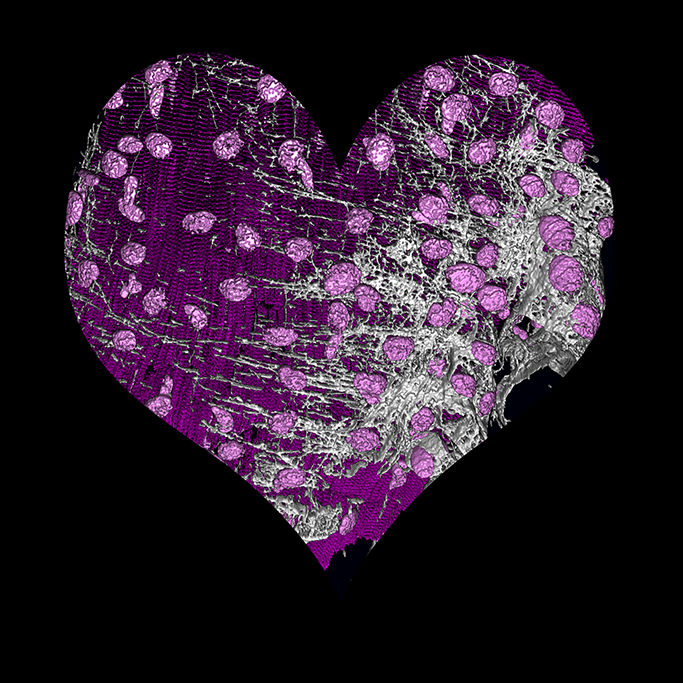 Helping Mend Broken Hearts
UK researchers have recently discovered how signalling processes within the heart can trigger the development of enlarged heart cells, a process called hypertrophy. While this may sound romantic, and is necessary for developmental growth, hypertrophy often leads to cardiac failure, which accounts for 25% deaths in the UK.
The image shown above, a 3D reconstruction of a section through a rat heart,  is from the BBSRC-funded Babraham Institute, a world-leading centre for studying the basic biology of signalling processes and (epi)genome regulation, supporting BBSRC's mission to drive advances in bioscience for health and improved quality of life.
Understanding how these changes occur in the heart, in response to disease and ageing, may lead to new approaches to maintain a healthy heart and to treat heart disease, which costs the economy about £9Bn annually. Read more on this at: http://www.bbsrc.ac.uk/news/health/2012/121211-pr-how-heart-muscle-cells-get-remodelled.aspx
Check out the BBSRC Great British Bioscience Blog here: http://bbsrc.tumblr.com/ Copyright - Hanneke Okkenhaug  and Llewelyn Roderick from the Babraham Institute.
Contact details:
The Knowledge Exchange Office
Email:  kec@babraham.ac.uk
Tel:       +44 (0)1223 496206
The Babraham Institute
Babraham Research Campus
Cambridge CB22 3AT
​United Kingdom
 
Notes to Editors:
 
About the Babraham Institute:
The Babraham Institute undertakes world-class life sciences research to generate new knowledge of biological mechanisms underpinning ageing, development and the maintenance of health. Our research focuses on cellular signalling, gene regulation and the impact of epigenetic regulation at different stages of life. By determining how the body reacts to dietary and environmental stimuli and manages microbial and viral interactions, we aim to improve wellbeing and support healthier ageing. The Institute is strategically funded by the Biotechnology and Biological Sciences Research Council (BBSRC), part of UK Research and Innovation, through an Institute Core Capability Grant and also receives funding from other UK research councils, charitable foundations, the EU and medical charities.
 
Website: www.babraham.ac.uk
 
The Biotechnology and Biological Sciences Research Council (BBSRC) is the UK funding agency for research in the life sciences. Sponsored by Government, BBSRC annually invests around £450 million in a wide range of research that makes a significant contribution to the quality of life for UK citizens and supports a number of important industrial stakeholders including the agriculture, food, chemical, health and well-being and pharmaceutical sectors. BBSRC carries out its mission by funding internationally competitive research, providing training in the biosciences, fostering opportunities for knowledge transfer and innovation and promoting interaction with the public and other stakeholders on issues of scientific interest in universities, centres and institutes.
 
Website: bbsrc.ukri.org/