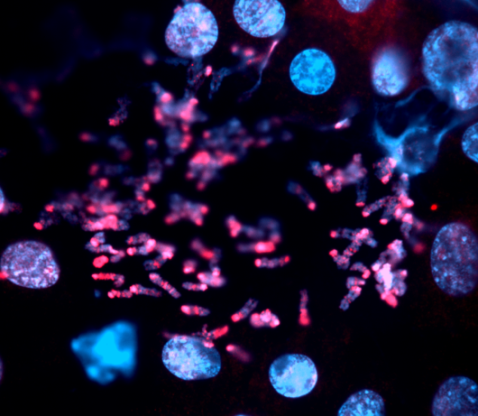 'DNA is not your only destiny' - Babraham scientists at the Natural History Museum
Scientists from the Babraham Institute and Cambridge University will be among 44 groups of scientists showcasing their research to the public in the Darwin Centre at London's Natural History Museum during Universities Week on the 9th and 10th June.
The exhibit explains the Babraham Institute's world leading research into epigenetics. While our genes, carriers of our DNA, provide the basic instructions for what we look like, our personalities, and what diseases we may develop, they alone cannot explain all aspects of inheritance or why diseases arise. Epigenetics is the study of how genes 'behave' and are influenced by the environment.
As well as a chance to chat to Babraham's scientists about their research, there are activities for all ages including building models of DNA and a chance to test your memory with a game based on stunning photographs from the Institute's Imaging Facility.
Research on epigenetics forms part of the Babraham Institute's strategic focus on the biological mechanisms behind ageing and lifelong health. Understanding how epigenetic changes occur, and how we can reprogramme our epigenome, may help in the development of stem cell therapies to combat age-related decline and the development of conditions such as diabetes, obesity and cancer.
Speaking about the event, Knowledge Exchange Manager, Linden Fradet, comments "This is the first year the Babraham Institute has taken part in Universities Week. Our attendance during the week highlights the partnerships involved in research, as we have volunteers from the University of Cambridge and Cambridge Epigenetix working together with Babraham's scientists to discuss this innovative area of science."
The exhibit has been developed by scientists and the public engagement team at the Babraham Institute with the aim of engaging the public in a dialogue about science. Our scientists bring research to life by talking about their experiences, demonstrating experiments and explaining often-complex science in understandable ways. Universities Week 2014, entitled 'Ideas for Life', aims to make university research relevant to the general public by showing the everyday impact of research.
The event at the Natural History Museum is the flagship event for the week and features 44 exhibitors from UK universities and research institutes. There will be a range of other activities taking place across the UK as part of Universities Week 2014, to promote and engage the public with the value and importance of university research. The week will be launched officially on Monday evening 9th June by the Universities and Science Minister David Willetts MP at the Natural History Museum. Universities Week 2014 is run by Universities UK, the representative body for all UK universities with Research Councils UK, the Higher Education Funding Council for England and the National Coordinating Centre for Public Engagement. 
Contact details:
The Knowledge Exchange Office
Email:  kec@babraham.ac.uk
Tel:       +44 (0)1223 496206
The Babraham Institute
Babraham Research Campus
Cambridge CB22 3AT
​United Kingdom
 
Notes to Editors:
 
About the Babraham Institute:
The Babraham Institute undertakes world-class life sciences research to generate new knowledge of biological mechanisms underpinning ageing, development and the maintenance of health. Our research focuses on cellular signalling, gene regulation and the impact of epigenetic regulation at different stages of life. By determining how the body reacts to dietary and environmental stimuli and manages microbial and viral interactions, we aim to improve wellbeing and support healthier ageing. The Institute is strategically funded by the Biotechnology and Biological Sciences Research Council (BBSRC), part of UK Research and Innovation, through an Institute Core Capability Grant and also receives funding from other UK research councils, charitable foundations, the EU and medical charities.
 
Website: www.babraham.ac.uk
 
The Biotechnology and Biological Sciences Research Council (BBSRC) is the UK funding agency for research in the life sciences. Sponsored by Government, BBSRC annually invests around £450 million in a wide range of research that makes a significant contribution to the quality of life for UK citizens and supports a number of important industrial stakeholders including the agriculture, food, chemical, health and well-being and pharmaceutical sectors. BBSRC carries out its mission by funding internationally competitive research, providing training in the biosciences, fostering opportunities for knowledge transfer and innovation and promoting interaction with the public and other stakeholders on issues of scientific interest in universities, centres and institutes.
 
Website: bbsrc.ukri.org/