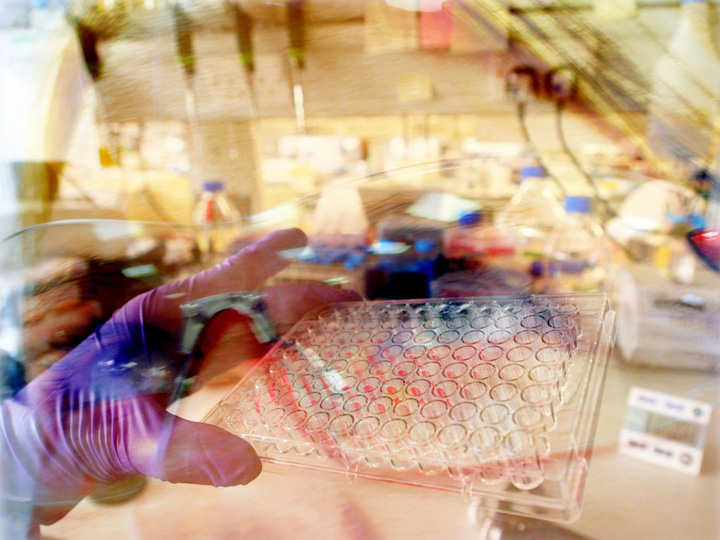 BBSRC's image competition
The BBSRC Images with Impact competition is now closed.
The competition sought images that represented how life sciences are changing the world, in areas like: food, farming, bioenergy, biotech, industry and health. The Babraham Institute supported the competition by opening up its labs to a creative group of photographers and illustrators. Institute staff also took part to demonstrate their perspective of the science they undertake on a daily basis. The image featured here is a competition entry by Clara Novo, a research associate at the Institute, and is entitled: Looking into the future.
The shortlist was been selected by an esteemed panel of judges and the public vote for the category winners and runners up closed on 31 October 2014.
Great Britain has always been the home of bioscience discovery. Penicillin, the DNA double helix and a famous sheep called 'Dolly' were all born of UK research, but never before has bioscience moved at such a pace.
With this competition we have captured the exciting developments and challenges happening in bioscience today, with images from the Great British public, its students and its researchers.
The three category winners are being shown at the Great British Bioscience Festival in London on 14-16 November, where visitors will vote to decide the overall winner.
The competition was judged by: James Cutmore, Picture Editor of BBC Focus; Dr Smita Kurup, Head of Bioimaging at Rothamsted Research; David McMahon, Director of Photography for both the MSc Biological Photography & Imaging and The undergraduate program of photography at University of Nottingham; Melanie Welham, Executive Director of Science at BBSRC and Matt Goode, Associate Director, Communications and External Relations at BBSRC.
Contact
Kate Ford
kate.ford@bbsrc.ac.uk
Tel: 01793442624
Twitter: @KateFord12
Louisa Wood, Communications Manager
louisa.wood@babraham.ac.uk
The Babraham Institute
Babraham Research Campus
Cambridge CB22 3AT
United Kingdom
 
Notes to Editors:
 
About the Babraham Institute:
The Babraham Institute undertakes world-class life sciences research to generate new knowledge of biological mechanisms underpinning ageing, development and the maintenance of health. Our research focuses on cellular signalling, gene regulation and the impact of epigenetic regulation at different stages of life. By determining how the body reacts to dietary and environmental stimuli and manages microbial and viral interactions, we aim to improve wellbeing and support healthier ageing. The Institute is strategically funded by the Biotechnology and Biological Sciences Research Council (BBSRC), part of UK Research and Innovation, through an Institute Core Capability Grant and also receives funding from other UK research councils, charitable foundations, the EU and medical charities.
 
Website: www.babraham.ac.uk
 
The Biotechnology and Biological Sciences Research Council (BBSRC) is the UK funding agency for research in the life sciences. Sponsored by Government, BBSRC annually invests around £450 million in a wide range of research that makes a significant contribution to the quality of life for UK citizens and supports a number of important industrial stakeholders including the agriculture, food, chemical, health and well-being and pharmaceutical sectors. BBSRC carries out its mission by funding internationally competitive research, providing training in the biosciences, fostering opportunities for knowledge transfer and innovation and promoting interaction with the public and other stakeholders on issues of scientific interest in universities, centres and institutes.
 
Website: bbsrc.ukri.org/