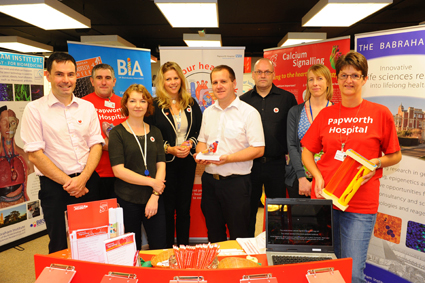 Babraham researchers take science to British Heart Foundation store
British Heart Foundation-funded scientists at the Babraham Institute and Open University, together with staff from Papworth Hospital recently visited Peterborough to discuss with local people some of the biomedical research made possible by the British public's generosity.
This collaborative event, between the Babraham Institute, the Open University, BioIndustry Association (BIA), Papworth Hospital and British Heart Foundation (BHF), took place in the British Heart Foundation's new electrical and furniture store in the city centre.
Dr Claire Cockcroft, who organised the event said, "We wanted to provide an informative, inspiring and interactive experience for visitors to the store, bringing them together with scientists, clinicians and industry to talk about heart research. Through the generous hospitality of the British Heart Foundation, people had the opportunity to talk to BHF-funded scientists about their research and its benefits, to understand more about heart disease and also to hear about advances in the treatment of heart disease from clinicians and industry."
Dr Diane Proudfoot, a BHF-funded Research Fellow at the Babraham Institute, is trying to understand how calcium gets deposited in the wrong places in the body – for example in the blood vessels supplying the heart – and what happens to those cells surrounding it. She said, "It's important to understand the basic biology behind the process of calcification in blood vessels since it occurs with ageing and is linked with hypertension and atherosclerotic plaque rupture, which are underlying causes of heart failure, stroke and heart attacks.
The event provided an informal setting in which we could explain how BHF-funded research is helping to identify the causes underlying certain aspects of heart disease, which may in future provide insights for new therapies."
Dr Martin Bootman, whose research has been funded by the British Heart Foundation for around eight years and is currently directing cardiovascular research at the Open University said, "It's always a pleasure and an inspiring experience, taking our science out on the road to discuss why and what we are researching, and its implications, with the public. The visitors seemed genuinely fascinated to find how research is progressing. This is the first time we've taken our science to a store and following the positive response of Peterborough shoppers, we are hoping to share our science with other communities around the country through the network of BHF stores."
The Peterborough Furniture & Electrical store, one of the charity's newest branches, was keen to host a 'science in a store' event to thank its local community for making the store's first month of business a success. Phil Moore, BHF Area Manager, said, "Hosting this science cafe enabled us to give something back to the local community that has helped make our new store in Peterborough such a success. They have donated goods, volunteered time and helped the nation's heart charity in raise vital funds to fight heart disease. We were delighted with the number of people who came not only to browse, but who visited us specifically to take part in our science café. They went away with a better understanding of heart disease, how to stay healthy and how to save a life thanks to the CPR awareness provided on the day by a team from Papworth hospital and BHF."
Daniel Saxton from Papworth Hospital, the UK's largest specialist heart and lung hospital, said: "The event was a great opportunity to speak with shoppers about their heart health and the importance of staying fit and healthy. Crucially, the event also raised awareness of knowing good CPR. Papworth staff supported the BHF's recent CPR campaign 'Hard and Fast' by providing instruction and hands on experience to over 50 adults and teenagers who had the chance to try chest compressions on a training model, giving them vital experience in this life saving technique."
Medical research is the UK public's number one charitable cause; around 9.4 million Britons gave to medical research charities each month in 2012, many through purchases at charity shops or through taking part in fundraising activities. Over £1 billion is channeled into research annually from these charities.
Steve Bates, BIA Chief Executive Officer, said, "The UK public are the most generous in Europe in their support for biomedical research through charity donation. It's great for the biotech sector in the UK to know they have the support of the British public as scientists seek to develop the next generation of medical therapies. We want to thank the public for their support and share with them some of the research which their money is spent on."
Dr Simon Cook, Group Leader and Head of Knowledge Exchange at the Babraham Institute, which receives strategic funding from the Biotechnology and Biological Sciences Research Council (BBSRC), added, "This is great example of how collaborative events, bringing together academic research institutes, clinicians, industry and charities, with the public, can promote discussion about research, explain the role medical research charities play in funding vital science and also provide information that may influence people's lifestyle decisions and improve their health."
BHF Shops offer a free collection service that can be booked by phone, just call 0844 334 1400, or try the free online collection service for larger furniture and electrical items: bhf.org.uk/collection All the money raised in the stores will help the BHF fund pioneering research and continue its fight for every heartbeat. By gift aiding your donations, the BHF will raise more money from your unwanted things, and it's completely free.
Contact details:
The Knowledge Exchange Office
Email:  kec@babraham.ac.uk
Tel:       +44 (0)1223 496206
The Babraham Institute
Babraham Research Campus
Cambridge CB22 3AT
​United Kingdom
 
Notes to Editors:
 
About the Babraham Institute:
The Babraham Institute undertakes world-class life sciences research to generate new knowledge of biological mechanisms underpinning ageing, development and the maintenance of health. Our research focuses on cellular signalling, gene regulation and the impact of epigenetic regulation at different stages of life. By determining how the body reacts to dietary and environmental stimuli and manages microbial and viral interactions, we aim to improve wellbeing and support healthier ageing. The Institute is strategically funded by the Biotechnology and Biological Sciences Research Council (BBSRC), part of UK Research and Innovation, through an Institute Core Capability Grant and also receives funding from other UK research councils, charitable foundations, the EU and medical charities.
 
Website: www.babraham.ac.uk
 
The Biotechnology and Biological Sciences Research Council (BBSRC) is the UK funding agency for research in the life sciences. Sponsored by Government, BBSRC annually invests around £450 million in a wide range of research that makes a significant contribution to the quality of life for UK citizens and supports a number of important industrial stakeholders including the agriculture, food, chemical, health and well-being and pharmaceutical sectors. BBSRC carries out its mission by funding internationally competitive research, providing training in the biosciences, fostering opportunities for knowledge transfer and innovation and promoting interaction with the public and other stakeholders on issues of scientific interest in universities, centres and institutes.
 
Website: bbsrc.ukri.org/