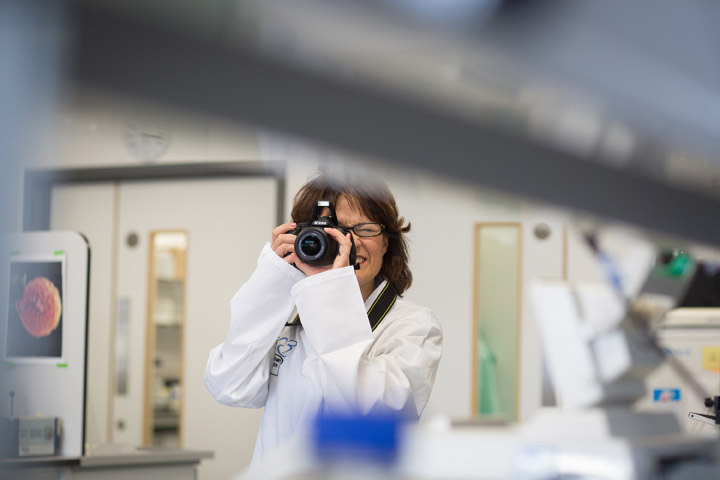 Babraham labs through a lens
Last Friday the BBSRC-supported Babraham Institute opened its doors to anyone interested in creatively capturing the Institute's scientists and research. This unique opportunity allowed photographers and illustrators to enter the Babraham's laboratories and facilities, experiencing the research environment and learning more about the Institute's pioneering research into ageing and maintaining lifelong health. The Open Afternoon event gave people the chance to use their artistic flair to get the perfect shot or sketch for the BBSRC's Images with Impact Competition.
Linden Fradet, Knowledge Exchange Manager at the Babraham Institute said: "It was an excellent opportunity to show the breadth and depth of our work and to engage the public in a totally different way. Eight laboratories took part on the day, representing several of the Institute's research groups and our Imaging, Flow Cytometry and Bioinformatics facilities also welcomed the visitors. Not only did our scientists give up their time to tell visitors about their research, they were also happy to pose for the occasional shot!"
Members of the public were invited into the laboratories of the four main research themes at the Institute; Epigenetics (understanding the effect of environmental factors on gene expression), Immunology (studying how our immune system functions and changes as we age), Signalling (investigating the communication between cells in our bodies) and Nuclear Dynamics (studying the packaging of DNA within a cell).
Scientists working in these areas explained how the basic fundamental research they carry out underpins our understanding of many processes within our bodies, providing a broad knowledge base to advance our understanding of how to maintain lifelong health and wellbeing.
Helen Lanzrein, Open Afternoon visitor and art teacher at the local Comberton Village College, said: "The afternoon has just been such a great opportunity. I found it so informative and the people we met were incredibly welcoming. I loved it, I didn't think I would enjoy it as much as I did – just fascinating." The recently launched 'Images with Impact' competition is part of the BBSRC 20th Anniversary programme, which seeks to highlight Great British Bioscience and its importance in everyday life.
There are fantastic prizes up for grabs, with a total prize fund of over £2,400. Anyone can enter and any type of image may be submitted - photography, visualisations and illustrations. BBSRC's Chief Executive Jackie Hunter said: "The Images with Impact competition is a brilliant opportunity to showcase images that present interesting perspectives on the range of world-leading bioscience in the UK. I look forward to seeing some wonderful entries."
If you think you have the best pictures that represent how life sciences are changing the world, in areas such as: food, farming, bioenergy, biotech, industry and health, enter the competition.  
Contact:
Louisa Wood, Communications Manager Babraham Institute
The Babraham Institute
Babraham Research Campus
Cambridge CB22 3AT
​United Kingdom
 
Notes to Editors:
 
About the Babraham Institute:
The Babraham Institute undertakes world-class life sciences research to generate new knowledge of biological mechanisms underpinning ageing, development and the maintenance of health. Our research focuses on cellular signalling, gene regulation and the impact of epigenetic regulation at different stages of life. By determining how the body reacts to dietary and environmental stimuli and manages microbial and viral interactions, we aim to improve wellbeing and support healthier ageing. The Institute is strategically funded by the Biotechnology and Biological Sciences Research Council (BBSRC), part of UK Research and Innovation, through an Institute Core Capability Grant and also receives funding from other UK research councils, charitable foundations, the EU and medical charities.
 
Website: www.babraham.ac.uk
 
The Biotechnology and Biological Sciences Research Council (BBSRC) is the UK funding agency for research in the life sciences. Sponsored by Government, BBSRC annually invests around £450 million in a wide range of research that makes a significant contribution to the quality of life for UK citizens and supports a number of important industrial stakeholders including the agriculture, food, chemical, health and well-being and pharmaceutical sectors. BBSRC carries out its mission by funding internationally competitive research, providing training in the biosciences, fostering opportunities for knowledge transfer and innovation and promoting interaction with the public and other stakeholders on issues of scientific interest in universities, centres and institutes.
 
Website: bbsrc.ukri.org/