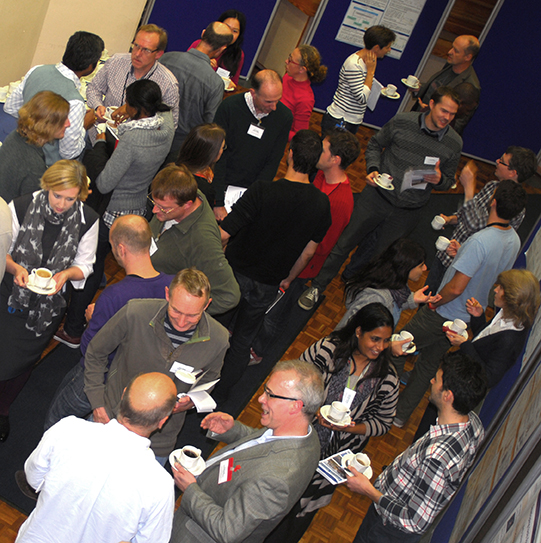 Babraham Knowledge Exchange Forum
The Babraham Knowledge Exchange Forum is a biannual event that showcases research from the Babraham Institute and the 50 biomedical companies on the Babraham Research Campus.  The event consists of short scientific talks from Babraham Institute and campus company scientists, followed by a cheese and wine reception.
On the 6th March from 2pm we'll be joined by Dr Anne Corcoran (Nuclear Dynamics), Dr Gavin Kelsey (Epigenetics), Dr Elena Vigorito (Lymphocyte Signalling & Development) and Dr Nicholas Ktistakis (Signalling) from the Babraham Institute, as well as Dr Mick McLean from ABeterno and Dr Tony Smith from Cambridge Epigenetix.
Additional commercial scientific talks will be announced soon. For the first time ever the Knowledge Exchange Forum will be open to external academics and biotechnology and pharmaceutical companies with relevant research interests.
Programme Tea and coffee available from 1:45pm
2.00 pm Welcome and Introduction – Dr Simon Cook
2.05 pm Dr Anne Corcoran, Nuclear Dynamics ISP, Babraham Institute High-resolution interrogation of antibody repertoires
2.20 pm Dr Mick McLean, ABeterno Cell selection using intracellular protein expression
2.35 pm Dr Gavin Kelsey, Epigenetics ISP, Babraham Institute
2.50 pm Dr Tony Smith, Cambridge Epigenetix Revealing the truth about Epigenetics
3.05 pm Dr Elena Vigorito, Lymphocyte Signalling & Development ISP, Babraham Institute Post-transcriptional regulation of antibody production
3.20 pm Campus Company, To be confirmed 3.35 pm Dr Nicholas Ktistakis, Signalling ISP, Babraham Institute Autophagy: the first three minutes
3.50 pm Campus Company, To be confirmed 4.05 pm Refreshments and Networking
Contact details:
The Knowledge Exchange Office
Email:  kec@babraham.ac.uk
Tel:       +44 (0)1223 496206
The Babraham Institute
Babraham Research Campus
Cambridge CB22 3AT
​United Kingdom
 
Notes to Editors:
 
About the Babraham Institute:
The Babraham Institute undertakes world-class life sciences research to generate new knowledge of biological mechanisms underpinning ageing, development and the maintenance of health. Our research focuses on cellular signalling, gene regulation and the impact of epigenetic regulation at different stages of life. By determining how the body reacts to dietary and environmental stimuli and manages microbial and viral interactions, we aim to improve wellbeing and support healthier ageing. The Institute is strategically funded by the Biotechnology and Biological Sciences Research Council (BBSRC), part of UK Research and Innovation, through an Institute Core Capability Grant and also receives funding from other UK research councils, charitable foundations, the EU and medical charities.
 
Website: www.babraham.ac.uk
 
The Biotechnology and Biological Sciences Research Council (BBSRC) is the UK funding agency for research in the life sciences. Sponsored by Government, BBSRC annually invests around £450 million in a wide range of research that makes a significant contribution to the quality of life for UK citizens and supports a number of important industrial stakeholders including the agriculture, food, chemical, health and well-being and pharmaceutical sectors. BBSRC carries out its mission by funding internationally competitive research, providing training in the biosciences, fostering opportunities for knowledge transfer and innovation and promoting interaction with the public and other stakeholders on issues of scientific interest in universities, centres and institutes.
 
Website: bbsrc.ukri.org/