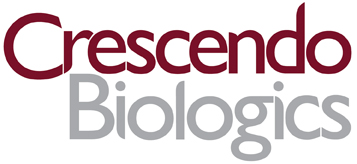 Babraham Institute spin-out Crescendo Biologics Wins Cambridge Business Innovation Award
Crescendo Biologics Limited (Crescendo) today announced it has been awarded the prize for Business Innovation at the Cambridge News Business Excellence Awards 2014. During 2013, Crescendo announced the Crescendo Mouse, a breakthrough in antibody fragment technology which allows the efficient generation of high-quality fully human single domain antibody VH fragments from a transgenic mouse.
The Company also raised £17.5m ($28m) in a Series A financing led by Imperial Innovations and including new investor Astellas Venture Management (AVM). Founding seed investor Sofinnova Partners also contributed significantly to the round.
Mike Romanos, CEO of Crescendo, said, "The Cambridge cluster is rightly recognised as one of the major innovation centres in the world so being recognised with the Business Innovation Award for 2014 is a great achievement. Last year was transformational for the business and the progress we made, which made the winning of awards such as this possible, is a reflection of the hard work and effort of the whole Crescendo team."
Contacts Mike Romanos Crescendo Biologics Tel: +44 (0) 1223 497140 Email: mromanos@crescendobiologics.com Chris Gardner Citigate Dewe Rogerson Tel: +44 (0)207 638 9571 Email: chris.gardner@citigatedr.co.uk
About Crescendo Biologics Ltd Crescendo Biologics, based in Cambridge, UK, is focused on the discovery and development of best-in-class human VH antibody fragment therapeutics using its novel transgenic platform. Crescendo is enabling the major VH product formats (multivalent, half-life-extended and topical) for its own pipeline, focused in inflammation and oncology, and to make it the partner of choice for human VH fragment therapeutics. www.crescendobiologics.com