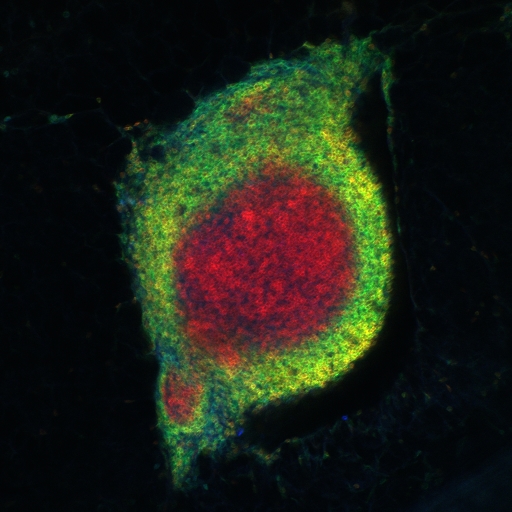 Babraham Institute Image of the Month – May 2014
The Babraham Institute has excellent core facilities which allow our scientists access to cutting edge technologies to support their research.  These facilities include; bioinformatics, next generation sequencing, flow cytometry, lipidomics, mass spectrometry and imaging. 
To highlight the breadth and beauty of the science at the Institute we ask scientists using the Imaging Facility to submit images for our 'image of the month' competition. This month's winner was Yunhua Loo, a PhD-student in Marc Veldhoen's lab, who is studying structures of the lymphatic system.  The lymphatic system is a network of thin vessels, similar to blood vessels that are spread across the body.  The lymphatic system is part of the immune system (which helps the body resist infection) and carries cells and fluid around the body.   
Yunhua's image shows the formation of lymphoid structures in the mesentery, a fat tissue that spans the small intestine and carries blood and lymphatic vessels.  The lymphoid structures were formed upon the introduction of immune system cells called CD4 T cells and it is thought that these cells recruit other cells to help develop the lymphoid structures.  This image helps us to understand how and why these structures are formed.
Contact details:
The Knowledge Exchange Office
Email:  kec@babraham.ac.uk
Tel:       +44 (0)1223 496206
The Babraham Institute
Babraham Research Campus
Cambridge CB22 3AT
​United Kingdom
 
Notes to Editors:
 
About the Babraham Institute:
The Babraham Institute undertakes world-class life sciences research to generate new knowledge of biological mechanisms underpinning ageing, development and the maintenance of health. Our research focuses on cellular signalling, gene regulation and the impact of epigenetic regulation at different stages of life. By determining how the body reacts to dietary and environmental stimuli and manages microbial and viral interactions, we aim to improve wellbeing and support healthier ageing. The Institute is strategically funded by the Biotechnology and Biological Sciences Research Council (BBSRC), part of UK Research and Innovation, through an Institute Core Capability Grant and also receives funding from other UK research councils, charitable foundations, the EU and medical charities.
 
Website: www.babraham.ac.uk
 
The Biotechnology and Biological Sciences Research Council (BBSRC) is the UK funding agency for research in the life sciences. Sponsored by Government, BBSRC annually invests around £450 million in a wide range of research that makes a significant contribution to the quality of life for UK citizens and supports a number of important industrial stakeholders including the agriculture, food, chemical, health and well-being and pharmaceutical sectors. BBSRC carries out its mission by funding internationally competitive research, providing training in the biosciences, fostering opportunities for knowledge transfer and innovation and promoting interaction with the public and other stakeholders on issues of scientific interest in universities, centres and institutes.
 
Website: bbsrc.ukri.org/