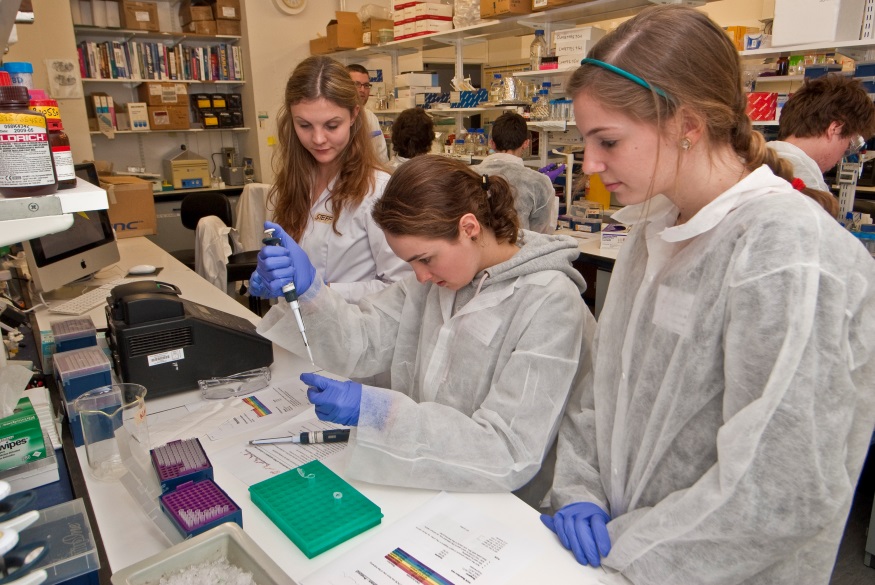 Babraham Institute celebrates its 20th Schools' Day
On 19th March 2014, the Babraham Institute will be celebrating 20 years of hosting its highly successful Schools' Day, opening its laboratories to 100 GCSE and A-level students from 12 schools across Cambridgeshire. Students have chosen from twenty-two laboratory-based projects relating to the world-leading research of the Babraham Institute's science groups and will get to grips with state-of-the-art equipment and techniques.
The Babraham Institute, which receives strategic funding from the Biotechnology and Biological Sciences Research Council (BBSRC), carries out a series of public engagement activities of which Schools' Day is one. 
During this day students have the chance to work alongside the Institute's PhD students and group leaders on projects including: 'Using molecular biology to study signalling enzymes', 'What is the difference between a muscle stem cell and a muscle fibre',  'Gene regulation in stem cells' and 'Molecular biology - the cut and paste of biology'.
This year the students will also be finding out about careers in technology transfer from Babraham's Commercialisation Manager and gaining an insight into bioincubator management from the CEO of Babraham Bioscience Technologies Ltd, who manage the Babraham Research Campus.
Students at last year's event told us that they enjoy the chance for hands-on experiments using equipment and techniques they don't use at school and several report that their visit to Babraham has influenced their career choice towards science. One student said she was "amazed at how much impact the science can have on the world even though it's behind the bench". This year, to recognise the achievements of Babraham's flagship public engagement event as well as highlight other 'Science and society' initiatives during the last 20 years we have invited special guests from industry, policy and academia to celebrate our anniversary with the scientists, students and teachers.   
Babraham Institute Director, Professor Michael Wakelam, will welcome guests and will provide a tour of the Babraham Research Campus.  Speaking about the event Michael comments, "This has been an incredibly successful initiative.  Since we started Schools' Day in 1994, we have welcomed over 2000 students onto site; welcoming students and teachers is one thing but sharing our enthusiasm for science is another.  Our Annual Schools' Day allows us to engage with local schools and inspire many students into a scientific career.  This event is only a small part of our 'Science and Society' public engagement programme but it is a very significant part.  This is a day when all our scientists, from PhD students to group leaders, have a chance to step away from their day-to-day research and demonstrate their science through schools projects.  Their involvement in schools' day offers them a chance to inspire young audiences, and at the same time it provides our researchers with additional skills and opportunities to communicate to the public.  We expect to build on this success of this initiative and look forward to another 20 years!"  
Contact details:
The Knowledge Exchange Office
Email:  kec@babraham.ac.uk
Tel:       +44 (0)1223 496206
The Babraham Institute
Babraham Research Campus
Cambridge CB22 3AT
​United Kingdom
 
Notes to Editors:
 
About the Babraham Institute:
The Babraham Institute undertakes world-class life sciences research to generate new knowledge of biological mechanisms underpinning ageing, development and the maintenance of health. Our research focuses on cellular signalling, gene regulation and the impact of epigenetic regulation at different stages of life. By determining how the body reacts to dietary and environmental stimuli and manages microbial and viral interactions, we aim to improve wellbeing and support healthier ageing. The Institute is strategically funded by the Biotechnology and Biological Sciences Research Council (BBSRC), part of UK Research and Innovation, through an Institute Core Capability Grant and also receives funding from other UK research councils, charitable foundations, the EU and medical charities.
 
Website: www.babraham.ac.uk
 
The Biotechnology and Biological Sciences Research Council (BBSRC) is the UK funding agency for research in the life sciences. Sponsored by Government, BBSRC annually invests around £450 million in a wide range of research that makes a significant contribution to the quality of life for UK citizens and supports a number of important industrial stakeholders including the agriculture, food, chemical, health and well-being and pharmaceutical sectors. BBSRC carries out its mission by funding internationally competitive research, providing training in the biosciences, fostering opportunities for knowledge transfer and innovation and promoting interaction with the public and other stakeholders on issues of scientific interest in universities, centres and institutes.
 
Website: bbsrc.ukri.org/