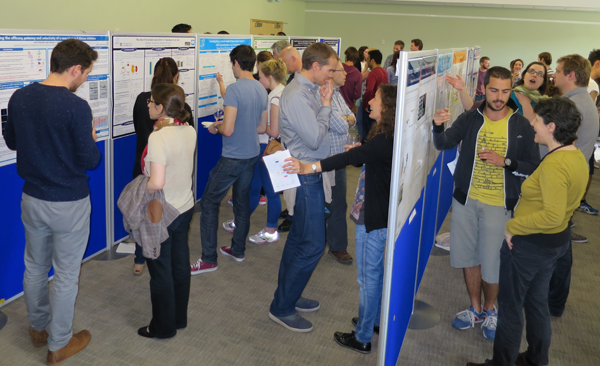 Babraham Institute Annual Lab Talks 2014
The Babraham Institute Annual Lab Talks showcase the exciting breadth and quality of research at the Institute and provide the opportunity for all Institute scientists to discuss their most recent data and newly developed technologies. This year a fully packed programme included 23 talks from group leaders, post-doctoral scientists and PhD students from across our 4 Strategic Programmes – Epigenetics, Signalling, Nuclear Dynamics and Lymphocyte Signalling and Development. Additionally a poster session and celebratory BBQ allowed research findings to be discussed and debated across the programmes in great detail.
We were also privileged to welcome Professor Jim Smith, from the MRC National Institute for Medical Research, as our keynote speaker, who shared with us his inspirational career in science.  Professor Smith has made fundamental contributions to our understanding of how key signalling events drive cell fate determination in the developing embryo.
The interactive and stimulating agenda was concluded with a prize-giving ceremony, highlighting and recognising the achievements of our talented students and staff. The prestigious Sir Michael Berridge Prize was awarded to Dr Takashi Nagano, a senior post-doctoral researcher in Peter Fraser's lab, for his outstanding contribution to the development of 'Single-cell Hi-C' - a technology used at the Institute to analyse chromosome structure in individual cells. The work of Takashi and his colleagues led to a Nature paper (Single cell Hi-C reveals cell-to-cell variability in chromosome structure 10.1038/nature12593), and demonstrated that chromosomes are rarely the X-shaped blog of DNA most of us are familiar with.
Prizes were also presented for the best student and post-doctoral presentations at the Annual Lab Talks. A further two prizes were awarded to scientists at the Institute: a 'Knowledge Exchange and Commercialisation' Prize was awarded to Dr Rachael Walker, Head of the Flow Cytometry Facility for her significant contribution in developing the facility for use by both Institute and external scientists. Rachael has used her extensive knowledge of flow cytometry to work with and train academic and industrial scientists, developing collaborations and generating income. Rachael also recently secured a BBSRC Modular Training Programme Grant to establish a Basics and Advanced Flow Cytometry Training course aimed primarily at Industry.
Secondly, a team of students and post-doctoral scientists were commended for their contributions to establishing a new Immunology-themed exhibit and public engagement programme for 2014:  'Weapons of Microscopic Destruction – How your body keeps you safe from attack'.  Isabelle Osuch, Lewis Bell, Bryony Stubbs, Ee Lyn Lim, Amy MacQueen and Ine Vanderleyden collectively drove the design and implementation of an exhibit that was showcased at the Cambridge Science Festival in March. In addition, they have contributed to the development of an engagement programme around the Immunology theme, which will include educational and on-line resources as well as further participation in school workshops, conferences and public debate.
Contact details:
The Knowledge Exchange Office
Email:  kec@babraham.ac.uk
Tel:       +44 (0)1223 496206
The Babraham Institute
Babraham Research Campus
Cambridge CB22 3AT
​United Kingdom
 
Notes to Editors:
 
About the Babraham Institute:
The Babraham Institute undertakes world-class life sciences research to generate new knowledge of biological mechanisms underpinning ageing, development and the maintenance of health. Our research focuses on cellular signalling, gene regulation and the impact of epigenetic regulation at different stages of life. By determining how the body reacts to dietary and environmental stimuli and manages microbial and viral interactions, we aim to improve wellbeing and support healthier ageing. The Institute is strategically funded by the Biotechnology and Biological Sciences Research Council (BBSRC), part of UK Research and Innovation, through an Institute Core Capability Grant and also receives funding from other UK research councils, charitable foundations, the EU and medical charities.
 
Website: www.babraham.ac.uk
 
The Biotechnology and Biological Sciences Research Council (BBSRC) is the UK funding agency for research in the life sciences. Sponsored by Government, BBSRC annually invests around £450 million in a wide range of research that makes a significant contribution to the quality of life for UK citizens and supports a number of important industrial stakeholders including the agriculture, food, chemical, health and well-being and pharmaceutical sectors. BBSRC carries out its mission by funding internationally competitive research, providing training in the biosciences, fostering opportunities for knowledge transfer and innovation and promoting interaction with the public and other stakeholders on issues of scientific interest in universities, centres and institutes.
 
Website: bbsrc.ukri.org/