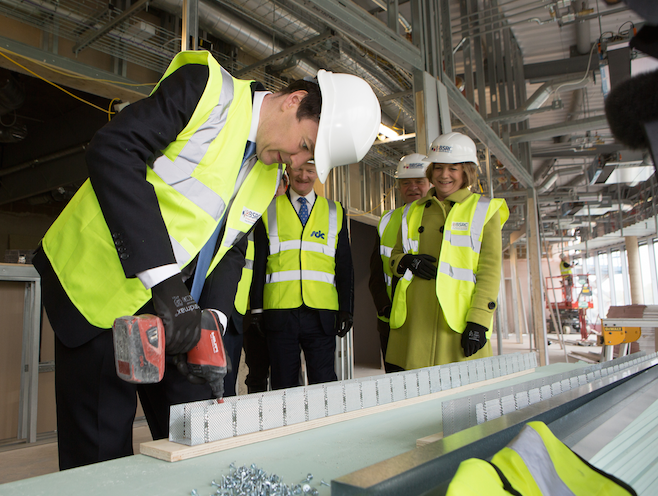 £6M to help early bioscience companies flourish
Chancellor George Osborne has announced a £6M cash injection to improve infrastructure and facilities in Cambridge that will support new companies developing from bioscience research.
The funding will see further expansion at the Babraham Research Campus following an initial investment of £44M by the Biotechnology and Biological Sciences Research Council (BBSRC). The development is providing a state-of-the art research and business environment to enable the creation of innovative new products and services from bioscience discoveries. The announcement was made during a visit to the campus by the Chancellor George Osborne and Universities and Science Minister David Willetts. During the visit they saw the progress of BBSRC's investment to deliver the vision of a UK Research and Innovation Campus in Cambridge.
Dr Celia Caulcott, Executive Director, Innovation and Skills, BBSRC: "For the UK to continue its success in bioscience industries we need to foster an internationally leading, long-term research base that has significant business links. Investment in UK Research and Innovation Campuses is delivering this by ensuring that there are the right facilities to bring researchers and research capability together with businesses.  In particular we look to ensure that companies can access the world-leading research at institutes such as Babraham, and to support very early stage companies in a variety of ways, such as with incubation and business interaction space."
The £6M funding will contribute towards a new 'bioincubator' that houses both laboratory and office facilities and is specifically designed to accommodate growing companies. It will also enhance and improve social infra-structure on campus such as catering, hospitality and conferencing. Supporting the growth of biomedical enterprises in this way ensures that research outputs can be developed in order to benefit the economy and create new jobs. The investment aims to attract matched private-sector and strategic partner funding for this development to a total of £12M.
Babraham Institute's Director, Michael Wakelam and Babraham Bioscience Technologies Ltd Chief Executive, Derek Jones were among the guests that met with the Chancellor on the Babraham Research Campus earlier this morning.
Mr Jones commented: "This announcement is a significant step forward for the Campus and its tenants.  Companies choose to come to the Babraham Research Campus to work alongside the world-class researchers of the Institute, and also to make use of state of the art facilities."
Professor Michael Wakelam added: "A further injection of funding will ensure that the opportunities for knowledge exchange will increase. The provision for social infrastructure will undoubtedly lead to greater collaboration across the Campus, which is to the benefit of institute scientists and companies alike.  Our aim with this is to deliver the next "Crescendo Biologics" success story – a spin out from the Institute that has attracted £19.5 M of investment."
Image caption: George Osborne discussing investment for early stage bioscience companies on the Babraham Research Campus.
Contact details:
The Knowledge Exchange Office
Email:  kec@babraham.ac.uk
Tel:       +44 (0)1223 496206
The Babraham Institute
Babraham Research Campus
Cambridge CB22 3AT
​United Kingdom
 
Notes to Editors:
 
About the Babraham Institute:
The Babraham Institute undertakes world-class life sciences research to generate new knowledge of biological mechanisms underpinning ageing, development and the maintenance of health. Our research focuses on cellular signalling, gene regulation and the impact of epigenetic regulation at different stages of life. By determining how the body reacts to dietary and environmental stimuli and manages microbial and viral interactions, we aim to improve wellbeing and support healthier ageing. The Institute is strategically funded by the Biotechnology and Biological Sciences Research Council (BBSRC), part of UK Research and Innovation, through an Institute Core Capability Grant and also receives funding from other UK research councils, charitable foundations, the EU and medical charities.
 
Website: www.babraham.ac.uk
 
The Biotechnology and Biological Sciences Research Council (BBSRC) is the UK funding agency for research in the life sciences. Sponsored by Government, BBSRC annually invests around £450 million in a wide range of research that makes a significant contribution to the quality of life for UK citizens and supports a number of important industrial stakeholders including the agriculture, food, chemical, health and well-being and pharmaceutical sectors. BBSRC carries out its mission by funding internationally competitive research, providing training in the biosciences, fostering opportunities for knowledge transfer and innovation and promoting interaction with the public and other stakeholders on issues of scientific interest in universities, centres and institutes.
 
Website: bbsrc.ukri.org/
 
Babraham Bioscience Technologies Ltd is responsible for managing the Babraham Research Campus' Bioincubator. BBT brings together all the elements to support innovation and enable the successful exploitation of research in the biomedical sector based on technologies emanating from the Babraham Institute and bioventures relocating to the campus. BBT has taken a prominent role regionally, initiating and leading partnerships to promote knowledge and skills flow and has established a reputation for successfully translating innovative science into viable business opportunities through partnerships for wealth creation.
​Website: www.babraham.com