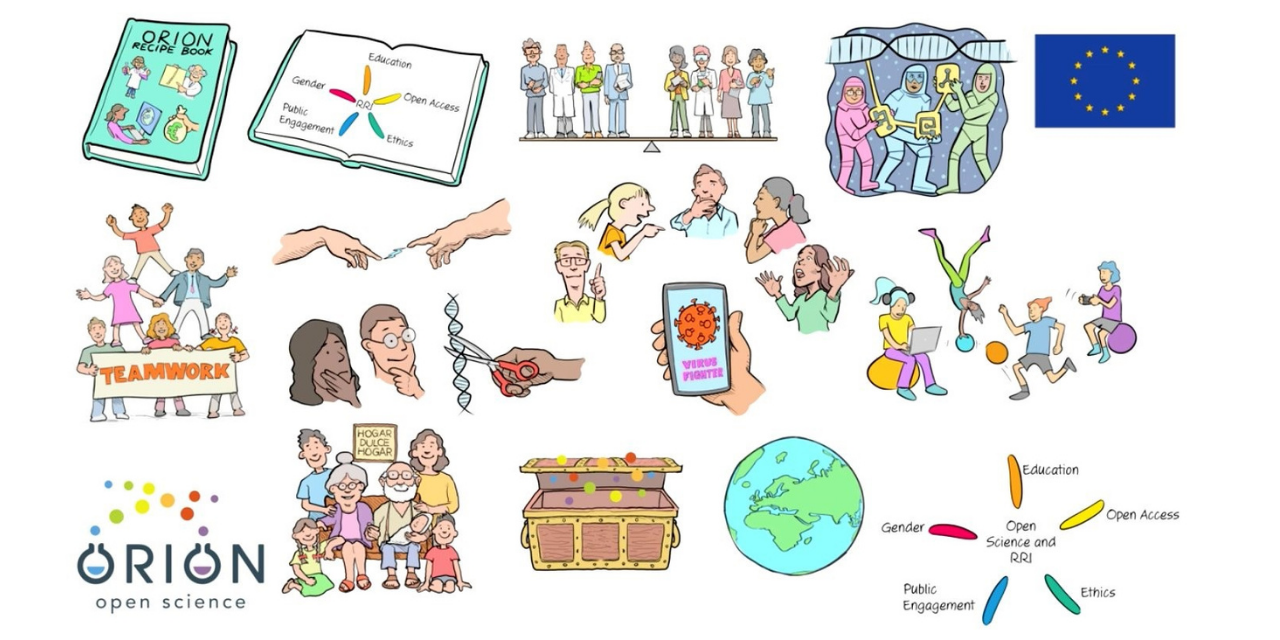 From May 2017 to September 2021, the Babraham Institute has been involved, together with eight other life sciences research performing and funding organisations from across Europe, in the Horizon 2020 project ORION Open Science. The overarching goal of the project was to embed open science and responsible research and innovation principles in the policies, practices and processes of participating organisations and to inspire others.
Through multiple activities revolving around co-creation with multiple stakeholders and training, and supported by a priori analysis and benchmarking and internal evaluation processes by social scientists, the ORION consortium sought to conquer three challenging areas of open science:
Opening up the research engine
Identifying risks and opportunities presented by disruptive technologies
Running citizen science in fundamental research
The outputs of the project have been multiple and diverse:
One cross-national public attitudes survey on involvement in life sciences (n=6000)
Six qualitative & one quantitative studies on open science views and practices (involving over 350 scientists and research professionals)
Four open science workshops with national stakeholders (UK, Germany, Spain, Czech Republic)
Four public dialogues on genome editing (involving over 120 people in four countries)
One public dialogue on research strategy (online)
Two citizen science projects (Barcelona, Berlin)
Two multi-stakeholder projects (on Information and Communication Technologies in Health research and on the science behind vaccinations)
Two different approaches to encourage open science practices (a research funding call and a prize)
40 open science trainings (in 15 countries)
One Massive Open Online Course on Open Science
One train-the-trainer course
One podcast (with over 44 episodes)
Over 15 factsheets
Since the project sought to produce cultural, behavioural and institutional changes, a booklet containing inspiring stories capturing the shifts in attitudes of participating stakeholders has also been produced. The key themes that span across these stories is that co-creating new value and ideas with different stakeholders is resource-intensive but very enriching, both at the level of the hands-on scientist as well as the institutional level.
Throughout these outputs and associated activities, the project has contributed to increasing the general knowledge of RRI (Responsible Research and Innovation) and open science; to enriching the library of open science training resources currently available; and, more importantly, it has put forward action plans to embed open science at the five core participating organisations in the project.
These plans are very diverse and reflect the national and institutional context of each ORION partner. The Babraham Institute (Cambridge, UK) developed its action plan (2021-2024) around the eight pillars of open science identified by the European Commission. The Central European Institute for Technology, a research institute of Masaryk University (Brno, Czech Republic), developed an action plan (2022-2023) that revolves around open access and open data; skills training; and awareness building. The research funder partner of ORION in the South Moravia region of the Czech Republic, JCMM, presented a plan directed at involving the public in evaluation processes for research funding. The other research funding organisations partnering in ORION, ISCIII (Spain), embed its open science actions revolving around recognition and public involvement in the overall strategic plan (2021-2025). Similarly the Centre for Genomic Regulation (Barcelona, Spain) included its open science action plan in their Strategic Plan (2021-2024) dedicating one strategic area for this objective with a strong focus on Open Access to scholarly publications and Open and FAIR research data management. The Max Delbrück Centre for Molecular Medicine (Berlin, Germany) will embed open science as a cross-cutting theme in the new General Transfer Strategy (under development), with key actions on open access and open data.
During the final conference on 27th & 28th September 2021, the ORION community came together with key invited speakers to share the project's activities, outputs and outcomes with an audience of over 100 people keen to hear about open science progress at the institutional, national and European levels. As one participant put it during the conference, "Open science is a cultural change. It needs push and it will find resistance." We embrace ourselves for the transformation ahead.  
About the author
Dr Emma Martinez worked as a Public Engagement Officer at the Babraham Institute and was Project Officer for open experiments and co-creation in the ORION project until September 2021.