Interested in a career in science but are unsure about what your next step is, which direction to take or what is right for you? This video collection can help you find out more about scientific careers.
Scientist Stories
In 2021/22 we produced a series of video interviews. In Scientist Stories, we invite you to meet some of the scientists behind our research, and discover more about what they do and how they came to be here.
Scientist Stories was a Public Engagement Seed Fund project led by Dr Jo Montgomery.
Watch the collection and other Careers in Science videos on our YouTube channel.
PhD Inspiration with FindAPhD.com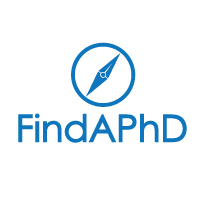 In 2017/18 we worked with FindAPhD.com to produce a series of videos featuring scientists from the Institute and the Campus reflecting on their PhD experiences. Our goal is to raise awareness of the shared and unique challenges each person's journey to help more people find the right career paths for them.
These videos form part of a larger collection by the FindAPhD team where they've spoken to a range of people with PhDs about their time as graduate students. FindAPhD exists to help people understand what a PhD involves, to explore if it's the right choice for them and to help them find a research project that suits their interests. You can find the full collection, transcripts of the videos and other information about PhDs on the FindAPhD blog.
If you are interested in taking up a PhD at the Babraham Institute please visit the Institute's Studentships page which includes a list of opportunities as well as information about university affiliation, funding and how to apply.
 
Michelle Linterman, Group Leader, Immunology
The personal and professional aspects of doing a PhD. Dr Michelle Linterman reflects on her time as a PhD student at the Australian National University in Canberra and offers her advice for PhD success.
Michelle is Group Leader in the Immunology programme at the Institute. Her work focuses on vaccinations and the effect of age on a healthy immune response.
Boo Virk, Post-doctoral Researcher, Epigenetics
'Getting the big picture' - Dr Boo Virk, a post-doctoral researcher in the Casanueva group, explains why she wanted to do her PhD and what to find out before choosing your project.
Before joining the Casanueva research group, Boo was a member of the Babraham Institute's Bioinformatics group, she helped to operate a series of training courses to help researchers develop their skills in bioinformatics.
Anne Corcoran, Group Leader, Immunology
In the first of a series of videos from FindAPhD.com, Dr Anne Corcoran shares what she loved about her PhD, what challenged her, and most importantly, what her top tips are for future students!
If you are interested in taking up a PhD at the Babraham Institute please visit the Institute's Studentships page which includes a list of opportunities as well as information about university affiliation, funding and how to apply.
Discover your career in science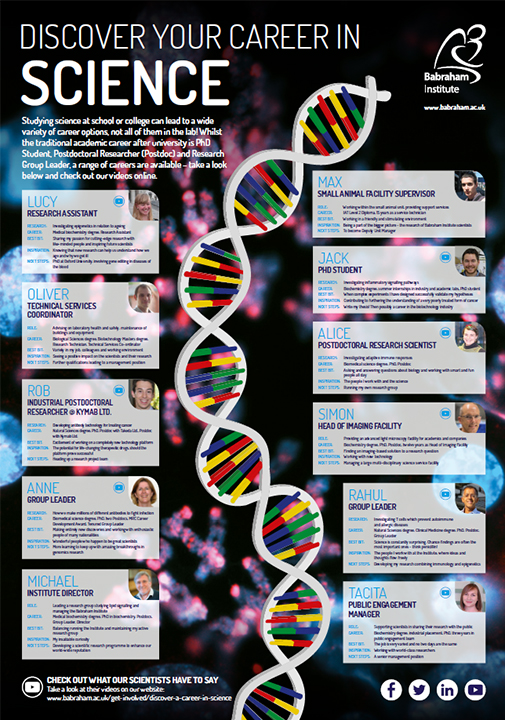 You can find out more about the wide range of possible careers in science from our series of videos in which our scientists explain why they love their job, what they do on a daily basis, what inspires them, what got them into a science career in the first place and what their next steps will be.
While the 'standard' academic career path tends to start with a university degree, followed by three or four years doing a PhD and then postdoctoral research, there are a range of research-related careers branching out from each of these stages. This series of videos features scientists from the Babraham Institute and campus companies at different stages of their career, including the academic career track, those working in industry and in scientific support.
You can also download our poster which describes other career possibilities available with a science background.
Rahul - Group Leader
Rahul, a Group Leader in the Institute's Immunology programme, explains the challenges of combining research with managing his team.
Anne - Group Leader
Anne, then a Group Leader in the Institute's Nuclear Dynamics programme, explains why she enjoys running her research group and the importance of a healthy work/life balance.
In 2018, Anne's group moved from Nuclear Dynamics to the Immunology programme.
Tacita - Public Engagement Manager
Tacita, the Institute's Public Engagement Manager, helps scientists to share their enthusiasm for research with audiences of all ages. Tacita's video explains how her science background has led to a career beyond the lab.
Simon - Imaging Facility Manager
Simon is the manager of the Babraham Institute's Imaging Facility, providing equipment, techniques and training to visualise the most intricate processes in cells.
Rob - Postdoctoral Research Scientist
Rob, a Postdoctoral Research Scientist working for Kymab Ltd, talks about his career since his PhD and why he enjoys working in industry
Alice - Postdoctoral Research Scientist
Jack - PhD Student
Jack is a 3rd-year PhD student in Simon Cook's group, part of the Institute's Signalling Programme. In this video Jack explains what led him to be a research scientist, what his normal working day is like and the benefits of his research.
Lucy - Research Assistant
Lucy talks about what is involved in her job as a research assistant in Jon Houseley's group - part of the Epigenetics Programme, what life in the lab is really like and what she's planning for the next step in her science career.