1st September 2020
Today we welcome Dr. Yang Wang, who joins us as a post-doc. Yang will work on developmental epigenetics and the control of lineage specification in human pre-implantation embryos.
10th June 2019
Welcome to Kate Maskalenka, our group's new PhD researcher who will be studying transcription factors in naive pluripotency.
1st-3rd March 2019
Charlene and Peter are attending the Abcam Chromatin Meeting in Munich.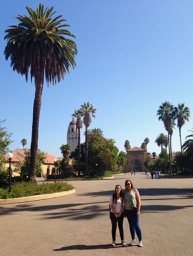 14th February 2019
Farewell to Mandy - we will miss you very much, and wish you all the best for California!
1-2 November 2018
Excited to host colleagues from several BBSRC Institutes to talk about epigenetics and to disucss our research.
20th-27th October 2018
Claudi, Mandy and Peter are at Stanford University this week.
10th October 2018
A huge 'well done' to Mandy for passing her viva today!! (And a thank you to her two examiners)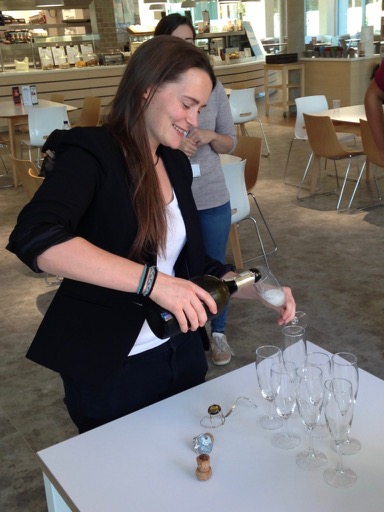 8th October 2018
Welcome to our new Ph.D students Andrew Malcolm and Adam Bendall, who will study gene regulatory mechanisms in pluripotency and lineage priming.
17th September 2018
Farewell to Paola - we have enjoyed working with you over the summer, and good luck for your studies back in Rome!
1st August 2018
Congratulations to Mandy for submitting her PhD thesis today!
30th April 2018
Welcome to Claudi Semprich, who joins us as a post-doc to study epigenetic heterogeneity in human pluripotency.
9th February 2018
Charlene was awarded a BSDB Conference Grant to attend the Spring Meeting. Well done Charlene! (and many thanks to the BSDB)
16th January 2018
Lab retreat to Munich for EpiGene2Sys conference...

30th November 2017
Clara was awarded promotion today to Senior Post-Doc. Congratulations Clara!
20th October 2017
Clara co-organized the 1st EU-Life International Postdoc Retreat, held in Lisbon. And bagged a prize for best talk - well done Clara!
17th October 2017
We're advertising for a PhD student and a Post-doc to work on the epigenetic regulation of human pluripotency.
5th October 2017
Peter was awarded tenure today!
25th September 2017
Clara and Mandy are at the CSHL Stem Cell Biology Meeting. Great science + great weather.
3rd July 2017
Welcome to Eleanor Sheekey, who joins us for eight weeks as a summer student!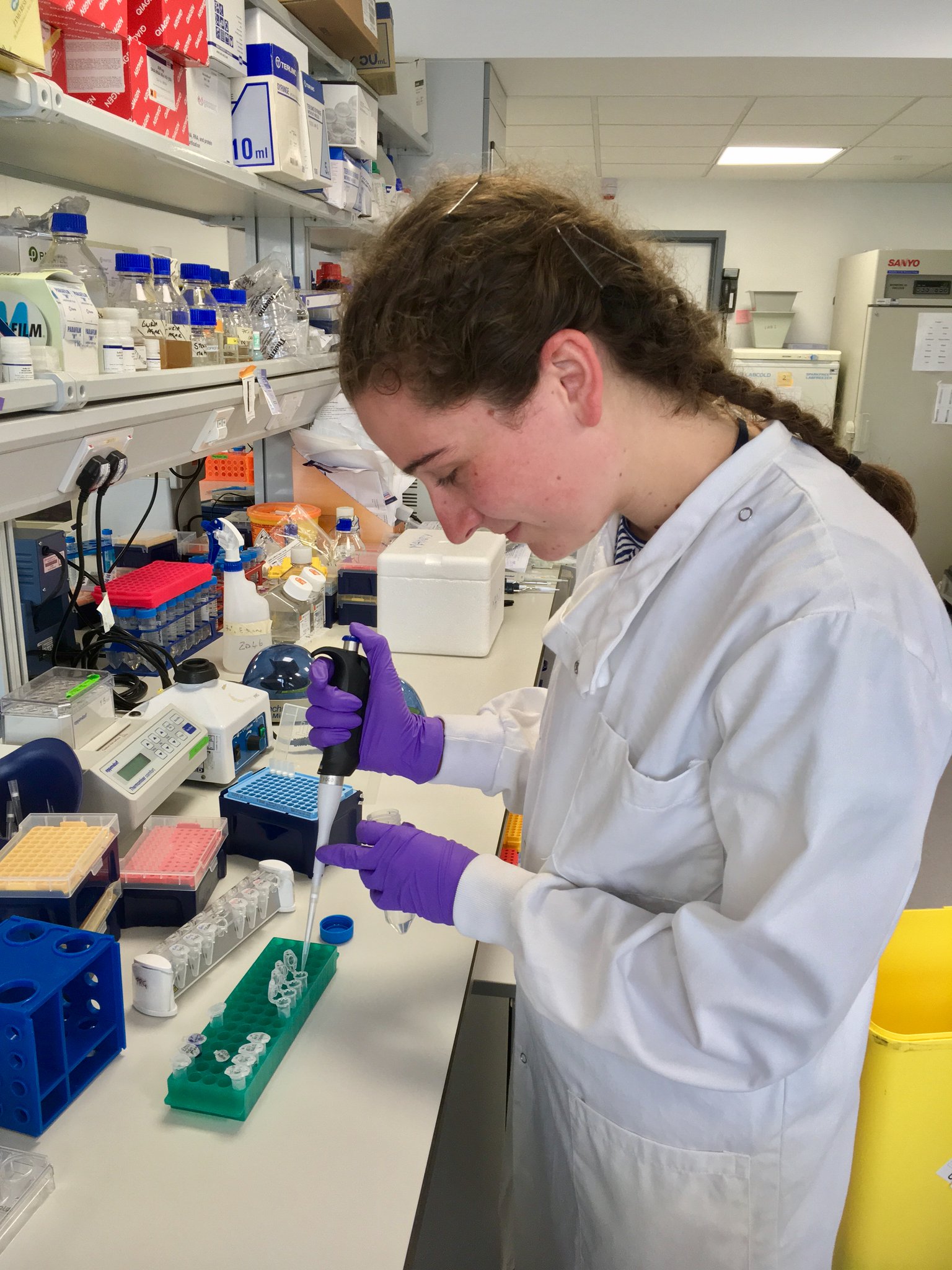 We are very grateful to the BSBD Gurdon Studentship for funding.
Here's a shot of Eleanor ChIPping away, and here is Eleanor's report.
18th June 2017
Returned from a very busy week at ISSCR in Boston. Terrific science, lots of interesting conversations with colleagues, and an overwhelming set of posters!
12th May 2017
Huge congratulations to Mandy for being awarded the Sir Michael Berridge prize, for her work published in Cell Stem Cell. And a great talk too!
And a big well done to Clara for being nominated for the 2017 KEC prize. This was based on her lead role in organising a Babraham–Lisbon post-doc meeting.
9th May 2017
Peter is at the Hebrew University in Jerusalem for the UK–Israel Stem Cell Investigators meeting. A really nice day of talks and discussions, and hopefully some new collaborations. 
23rd March 2017
Two papers out on the same day!


Mandy's study on human naive and primed states (
Cell Stem Cell
). Uses newly identifed markers to track cells during naive <-> primed transitions and takes some first steps towards understanding the transcriptional dynamics during primed cell resetting.
Paula and Stefan's paper on 3D interactions between promoters and cis-regulatory elements,

 in the context of human ESC to early neural differentiation (
eLife
). Finds that changes in the interactions occur preferentially with the changes in the activity of the regulatory element. Great collaboration with our BI colleague Mikhail Spivakov.
15th December 2016
New study in collaboration with Claire Rougeulle's lab shows XACT and XIST competing to control X-inactivation in human development (Cell Stem Cell)

6th December 2016
Our new research paper published in Cell Reports shows that EZH2 keeps developmental regulators repressed in human embryonic stem cells.
27th October 2016
Our new opinion article discusses the crosstalk between pluripotency factors and higher-order chromatin organization (Nucleus).
13th October 2016
Peter is heading to Bar Harbor for the latest ISCI workshop - thinking about genetic and epigenetic change in human pluripotent cells.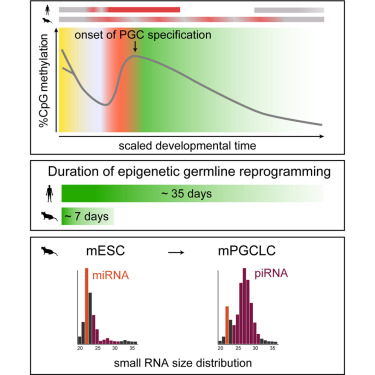 11th October 2016
Farewell and thank you to Arnold - we have enjoyed working with you over the last year.  
10th October 2016
New study in collaboration with Wolf Reik's lab investigates epigenetic reprogramming in the developing human and mouse germlines (Developmental Cell).
18th July 2016
Welcome to Giuseppe Lupo - our visiting neural developmental biologist will spend the next seven weeks with us
18-19th July 2016
We're at the Cambridge Stem Cell Institute Symposium for two days - great science as always.
15th July 2016
Lab outing in Cambridge and welcoming our new PhD student, Charlene.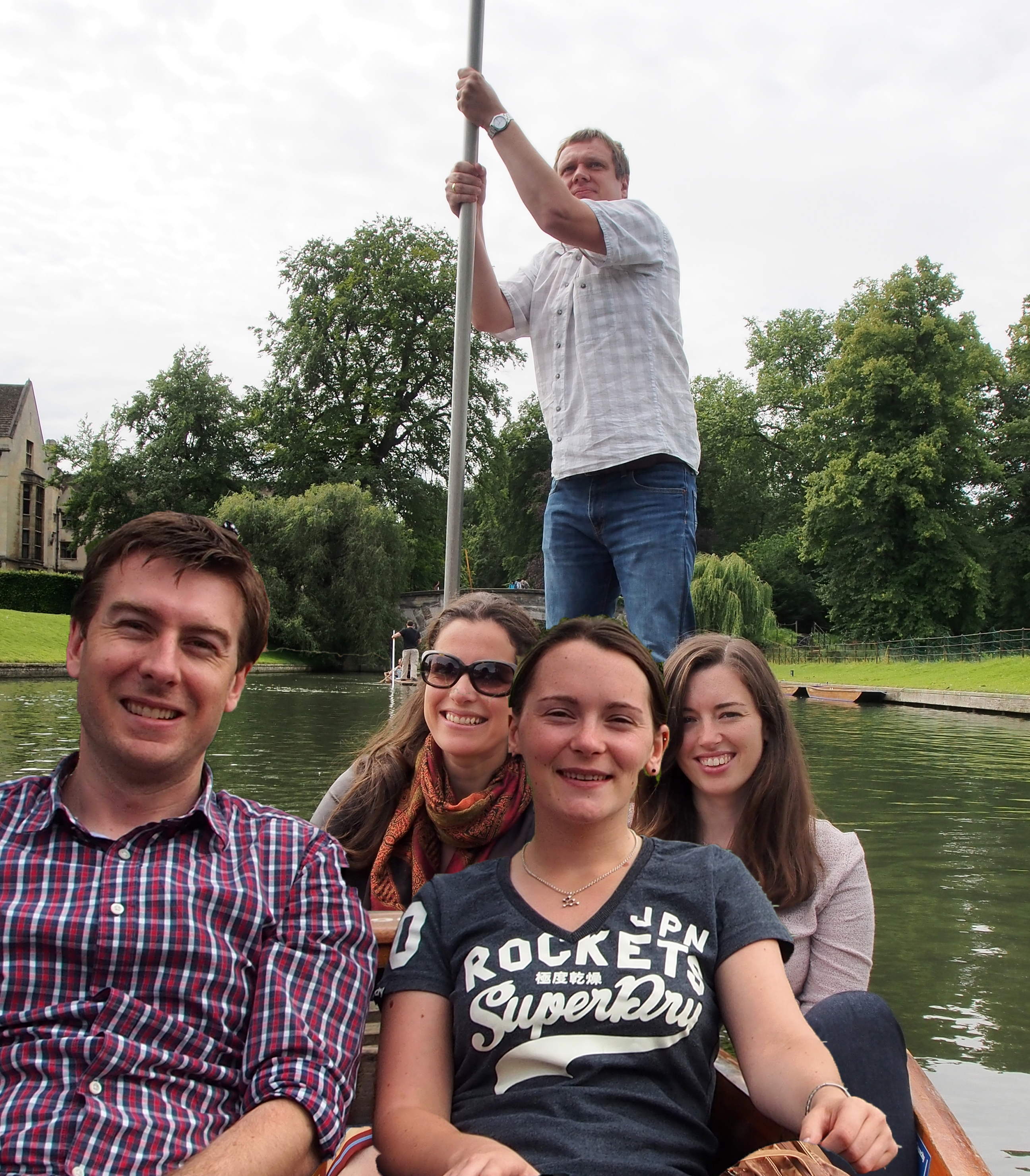 4th July 2016
Adam passes his PhD viva - congratulations Adam!
24th June 2016
Peter is the joint winner of the Babraham Institute's KEC Prize for his policy work on gene editing.
22nd-25th June 2016
Mandy and Peter travel to San Francisco for the ISSCR meeting. Mandy won a travel award - congrats Mandy!
27th May 2016
Farewell to Raquel Garcia, who finished her five-month Erasmus+ traineeship with us today.
7th May 2016
Our paper is the most accessed article at G&D over the last few days ...
29th April 2016
New paper published in Genes & Development reveals connection between pluripotency network and chromatin organisation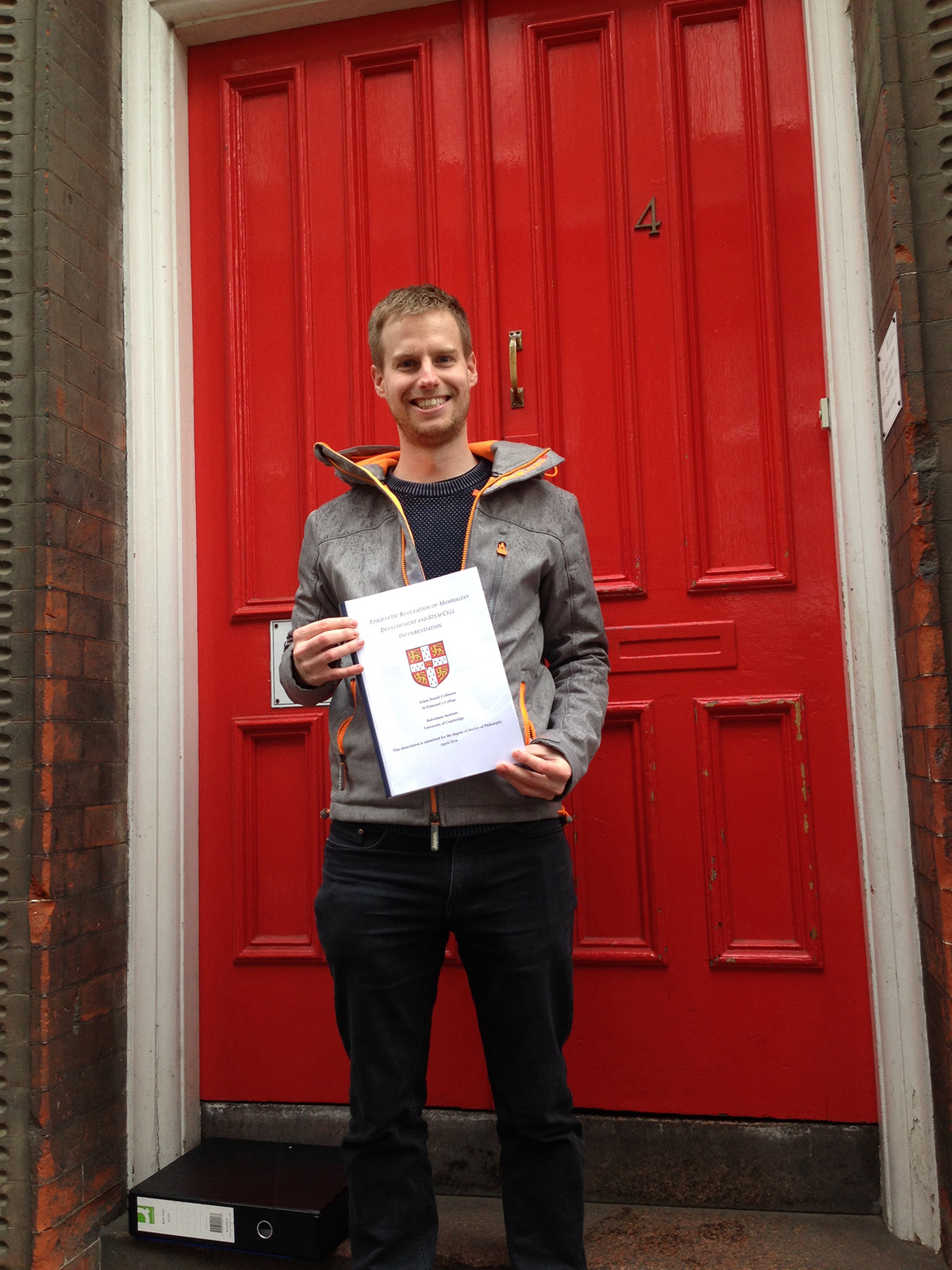 7th April 2016
Adam submits his PhD thesis - congratulations Adam!
​​30th March 2016
Peter is heading to Paris to give a seminar hosted by Claire Rougeulle.
17th March 2016
Taking part in a panel discussion 'Future of Gene Editing' as part of the Cambridge Science Festival. Should be fun!
7th March 2016
Attending a 'Scientific Leadership Workshop' organised by the Centre for Science and Policy - a fantastic panel shared their experiences of working on science policy within government and how to get involved. 
25th-26th February 2016
Cambridge Stem Cell Institute Retreat - looking forward to some great talks and posters.
11th-13th February 2016 Mandy and Peter travel to Paris for the EpiGeneSys Annual Meeting. A beautiful lecture theatre in the Maison des océans.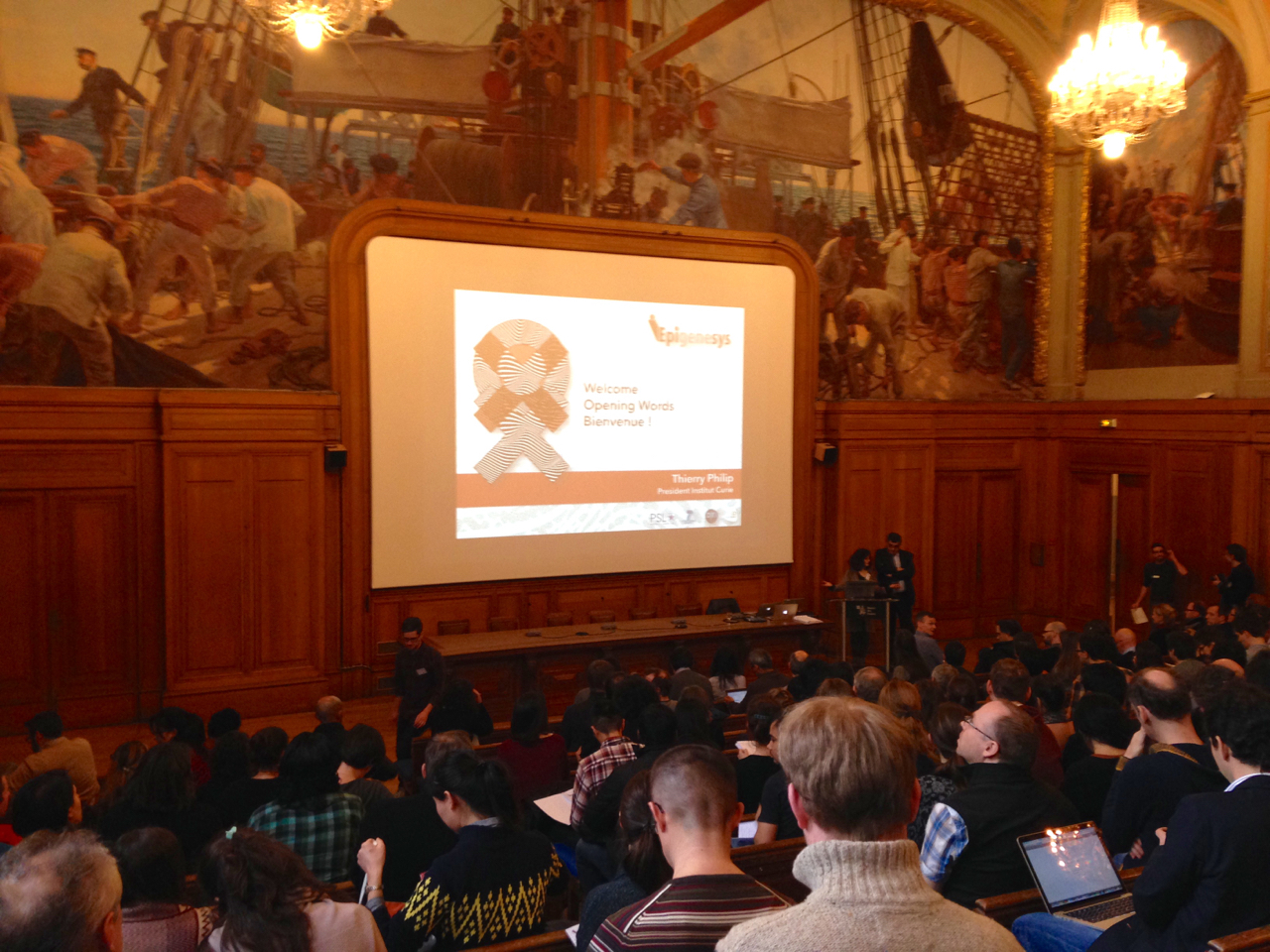 29th January 2016
A fascinating and thought-provoking day at a workshop with scientists, ethicists and policy experts, with the aim of discussing the use of gene editing in human stem cells. Hopefully a policy document to emerge over the next few weeks.
27th January 2016
Another great Wellcome Trust Researchers Meeting focused on cell and developmental biology.
26th January 2016
Hearing all about 'Epigenetics in Drug Discovery' including a really nice talk from Rab Prinjha about the use of small molecules to target epigenetic proteins in cancer.
13th January 2016
We spent the morning chatting with University Technical College students about our work, and fielded tough questions at a career panel session.
11th January 2016
Welcome to Raquel Garcia who joins our lab as an Erasmus+ student.
7th-11th December 2015
This week we hosted Miguel Casanova from Claire Rougeulle's group - a busy week in the lab and good discussions about our work.
7th December 2015
4-year MRC funded PhD Studentship available! Please see the advert for more details.
​23rd November 2015
Peter spent two enoyable days at Sapienza University of Rome hosted by Giuseppe Lupo. Lots of nice discussions with the staff and students and a lunchtime seminar as part of the PhD programme.
12th October 2015
Farewell to Natasha Morgan, who is leaving after two years in the lab. Natasha will now start a PhD with Myriam Hemberger. And welcome to Arnold Sienerth, who joins the lab as a post-doc!
17th September 2015
Peter spent the day at the Institute of Reproductive and Developmental Biology​ to give a seminar and hear more about the exciting work on the Hammersmith campus.
23rd July 2015
Our new paper has been published: Chromatin organization in pluripotent cells: emerging approaches to study and disrupt function (open access; pdf available on our publications page). 
20th July 2015
New postdoc position available in our lab!
13th July 2015
Welcome to Bao and Giuseppe, who will spend the summer with us. Bao is an Amgen Scholar who will work with Clara on differences in genome organisation between pluripotent states, and Giuseppe is an Assistant Professor in Rome who will work with us on looking at epigenetic changes in aged neural stem cells.
​9th July 2015
Mandy presents her poster at the Cambridge Stem Cell Institute Student Symposium.
14th May 2015
Adam presents his poster at an Epigenetics Industry Symposium.
24th April 2015
Congratulations to Adam for winning best student talk at the Babraham Annual Meeting!
15th - 18th April 2015
Lab retreat to Heidelberg for the EMBL Symposium: Cellular heterogeneity meeting.
9th & 10th April 2015
Peter is off to Sitges for an EpiGeneSys RISE retreat - excellent science as always, and planning how to maintain this network of european junior epigenetics researchers...
30th March 2015
Our grant "Characterisation of a novel NANOG / KDM4B complex to regulate heterochromatin function and chromosome stability in pluripotent stem cells" has been funded by the BBSRC! More to follow on the research page.
16th March 2015
Our new paper has been published: Annual meeting of the EpiGeneSys Network of Excellence - Advancing epigenetics towards systems biology. (Open access; pdf available on our publications page)
13th & 14th March 2015
Clara and four other postdocs from the University are organising an exhibition at the Cambridge Science Festival. The exhibition will explore their research through a series of photographs. The event is sponsored by the Babraham Institute. Please come along and support the exhibition!
26th February 2015
Clara co-organises discussion on publishing with panel members from academia, funding agencies and journals.
16th February 2015
We're joined by two A-level students this week: Charlotte and Cheng-Yu (right).
9th February 2015
Wellcome Trust Fellows meeting in London
 - An outstanding two days of science, ranging from centromere regulation, to disease monitoring in the tropics, to pain management in newborns!
4th February 2015
Peter is lecturing at Cambridge University this week...
28th January 2015
Peter enjoys the Queen Mary University of London Epigenetics Hub launch - thanks for the invitation!
15th December 2014
Amanda, Clara and Peter attend the Cambridge Stem Cell Institute Annual Meeting - looking forward to some great science. 
8th December 2014
Epigenetics department xmas dinner!
27th November 2014
Clara and Peter travel to Barcelona for the EpiGeneSys Annual Meeting. Not a bad place to be for a scientific meeting!
23rd October 2014
Adam and Amanda present their work at SymBLS.
16th October 2014
Congratulations to Clara, who won the Babraham Institute's Images with Impact competition with this entry.
Find out more about the competition here.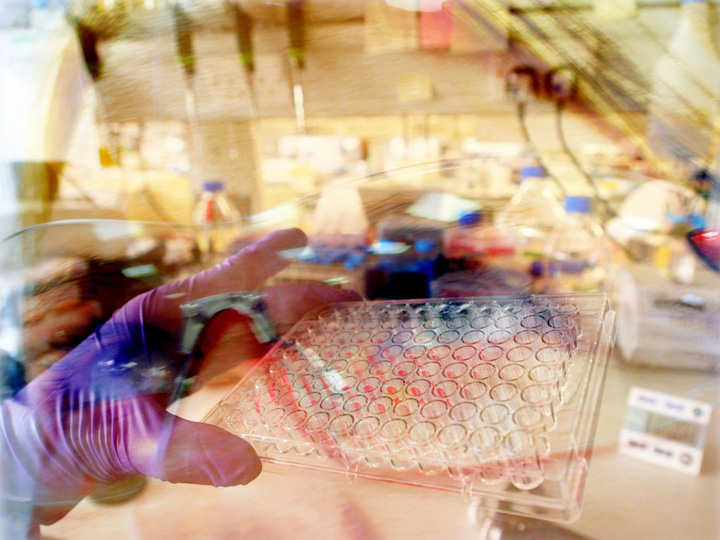 15th October 2014
Welcome to our newest lab member – Amanda Collier